Launch Party: Regenerate Grey Bruce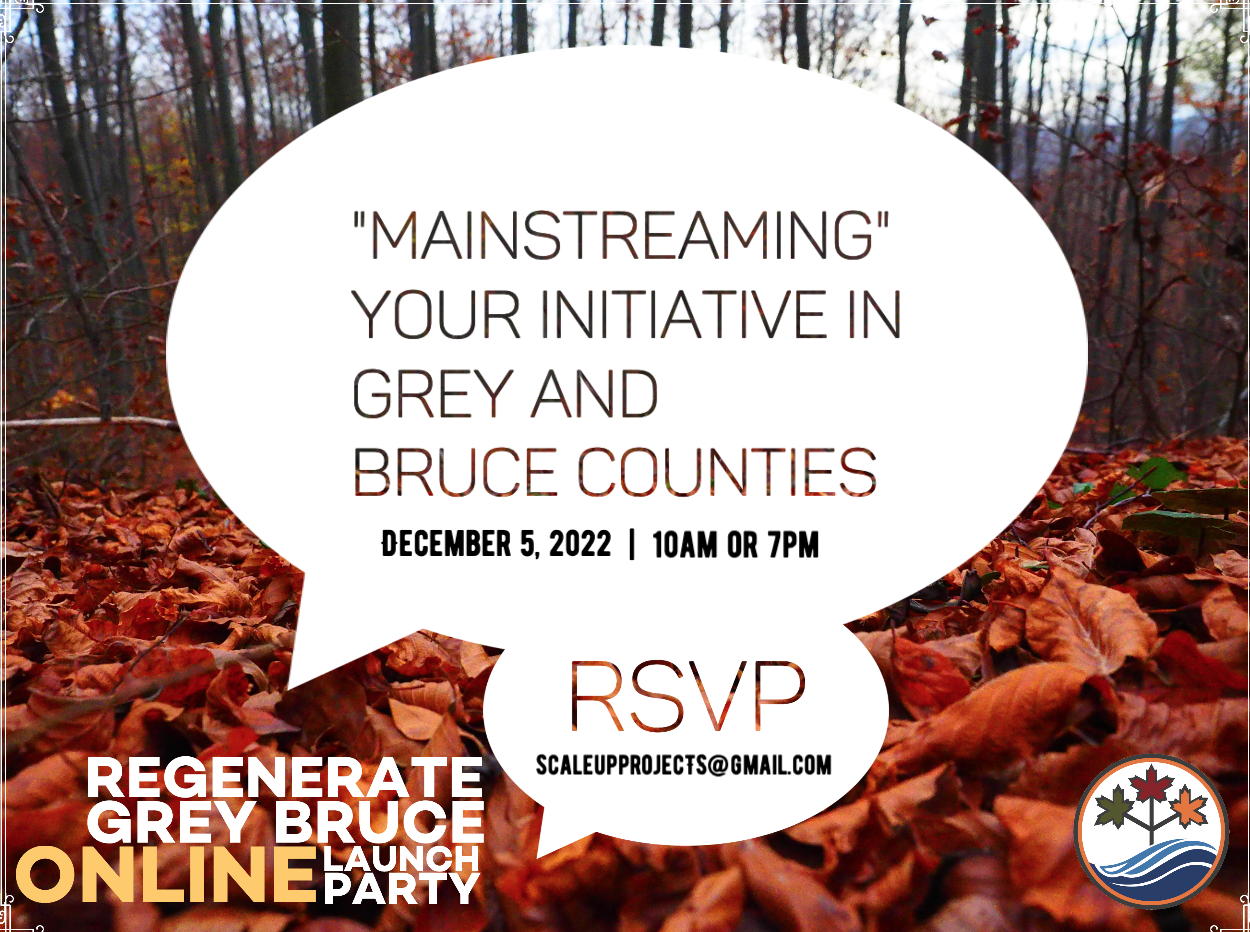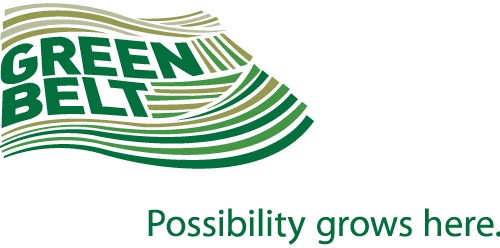 A Greenbelt Foundation-funded project called Regenerate Grey Bruce (RGB) invites all community members to the official launch of the project with the goal to think big about regenerating landscapes across Grey Bruce.
RGB believes that regeneration is the action we can take together to respond to complex challenges between humans and living landscapes.
RGB will host two community meetings as part of this launch, both held on Monday, Dec. 5, at 10:00 a.m. and 7:00 p.m.
The morning session will take place in-person and via Zoom at the Bluewater Outdoor Education Centre at 3092 Bruce Road 13 near Wiarton.
The evening slot will take place via Zoom only.
Everyone who is thinking about, committed to, or who has already begun growing native plants, trees and seedlings knows they are supporting the biodiversity, beauty and vibrancy of our region.
Regenerate Grey Bruce promotes a new narrative about how our community can strengthen our vibrant, living landscapes. Such landscapes regulate the water cycling and temperature of our local climate.
They are also more resilient to weather extremes with an active soil sponge that can absorb and store significant rainfall, slowly releasing clean water to vegetation and groundwater, and sequestering carbon.
Regenerated landscapes prioritize spaces for growing local food, wood and fibre products for local businesses – all the while strengthening soil health, beauty, habitat, and places for healing.
Regeneration looks different in all places and includes land-based conservation efforts, habitat reconstruction, Ontario-native plantings, public education, or social and business entrepreneurship. Many local initiatives already exist and thrive across Grey Bruce in both urban and rural areas. These types of initiatives are the starting point toward a new narrative.
RGB wants to showcase these great community initiatives to wider audiences by cross-pollinating.
Please join a community meeting on December 5 to help make regeneration a mainstream event, working together to increase the scope, scale and depth of landscape stewardship as quickly as possible.
Organizers will be leading discussions that focus on how to mainstream community initiatives both big and small, and how to collaborate to secure more funding.
Projects such as biodiverse gardens, sidewalks and public spaces, as well as projects on private lawns, are welcome to attend. It's important to celebrate how many we are (already), the different ways we contribute, and share the tips we're learning in regenerating our vibrant, living Grey Bruce landscapes.
To RSVP to either time slot on December 5 and/or learn more about the community meetings, please email scaleupprojects@gmail.com or visit our website.
Any participants who are feeling unwell or don't wish to travel are encouraged to RSVP to the virtual event.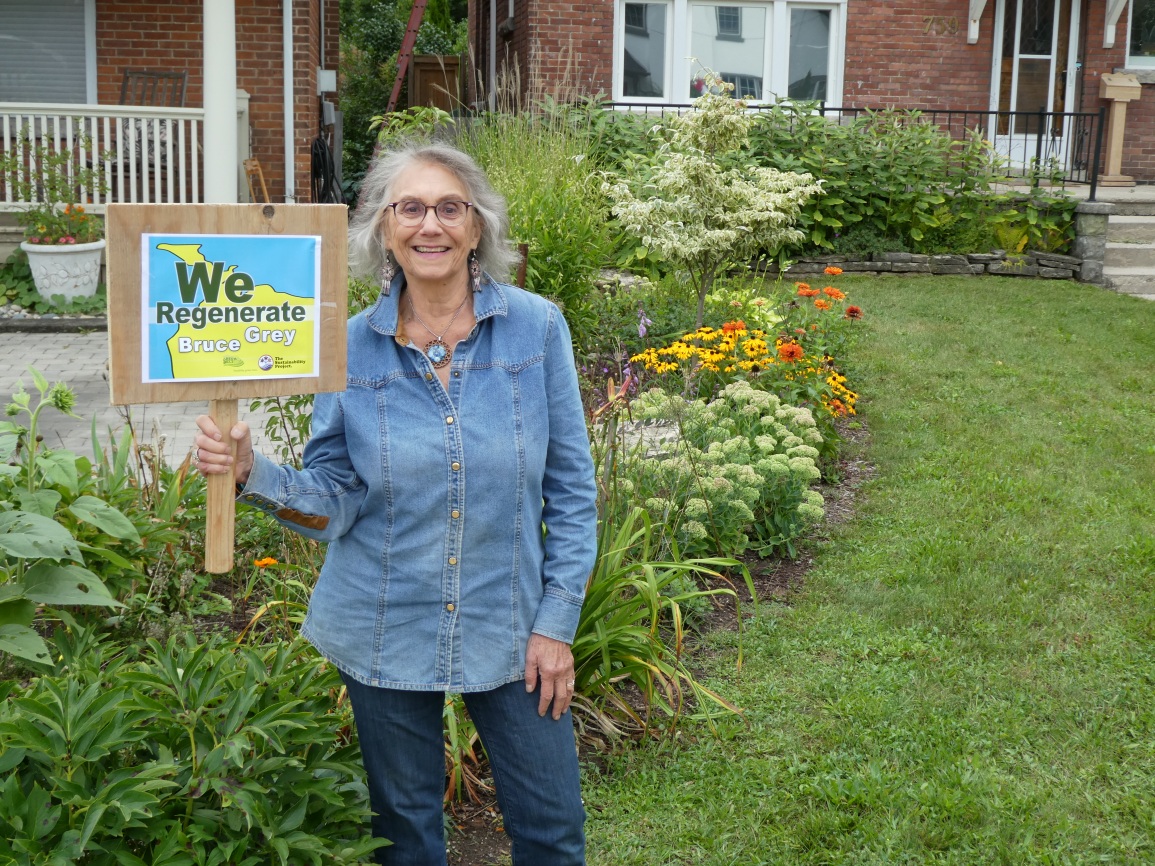 About Us:
Many community members are actively working toward this shared goal of nurturing our region's landscapes such that they remain biodiverse and resilient into the future.
The project Regenerate Grey Bruce is building a network of practitioners in landscape regeneration from our region, while formulating a narrative of hope for this region's landscape in our changing climate. A new landscape narrative will require a collective effort of our community to change our relationship with the land, the way that we value the land's ecological functioning, and even how we value the land and the creatures that inhabit it. We can only do this together as a community. The organizers include local farmers Thorsten Arnold and Madeline Marmor.
The hosting organization is The Sustainability Project, formerly known as Grey Bruce Sustainability Network. This not-for-profit brings together community members who reside in this region, the Traditional Territory of the Saugeen Ojibway Nation, who are dedicated to creating a culture of sustainability. Our board members are civic leaders and champions of at least one community project that creates positive change. Together we're learning about climate action, resilience to extreme weather, landscape regeneration, climate justice, food security, and the whole doughnut in doughnut economics.
The Greenbelt Foundation is supporting projects that increase plant cover in the Greenbelt & Niagara Escarpment. The Greenbelt Foundation website is www.greenbelt.ca.